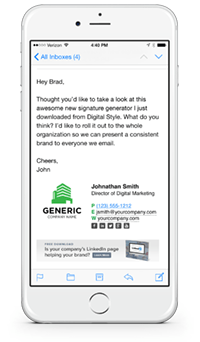 We all know a consistent, well-designed email signature can promote your company's brand and strengthen relationships, but it can also help drive visitors, leads and revenue!
Our ultimate email signature generator contains everything you need to make the most of every email your company sends!
You'll get:
A customizable mobile-friendly, retina-ready signature template that works with any email program
An easy-to-use form your team can use to create their own email signatures
Tips for switching promos without requiring manual changes
Best practices for driving leads and boosting your social media impact
Take a test drive then grab your free download and get started today!